Instrumentation Fittings Manufacturer & Exporter
Stainless Steel Instrumentation Fittings Manufacturer, SS Ferrule Fittings Supplier, Compression Ferrule Fittings Exporter, Brass Tube Fittings Stockist, Ferrule Pipe Fittings Dealer, Supplier of Male Connector, Male Run Tee, Male Elbow, Male Bulkhead, Male Branch Tee, Male Adapter, Duplex Steel Ferrule Fittings. Copper Tube Fittings Manufacturer in India.
Manufacturer & Exporter of Female Run Tee, Female Elbow, Female Connector, Female Bulkhead, Female Branch Tee, Female Adapter, Monel Ferrule Fittings Stockist, Inconel Instrumentation Fittings, Titanium Instrumentation Fittings Exporter, Aluminium Instrumentation Fittings Stockist, Hastelloy Instrumentation Fittings, Super Duplex Steel Tube Fittings in Mumbai, India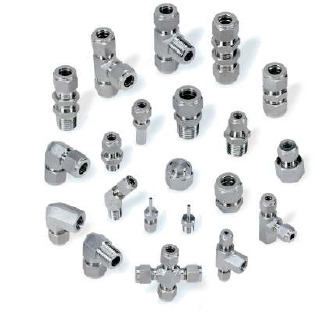 Bhansali Component & Fasteners is a leading manufacturer, exporter, supplier & stockist of Instrumentation Fittings. We manufacture precision machined & turned components using superior quality raw materials. Our Ferrule Fittings are wear and corrosion resistant, durable, flexible, affordable and dimensional accurate to reliably meet the critical demands of our customers. All of our precision machined components and processes meet the highest quality and performance standards, operating under a zero defects business model to deliver only the best.
We maintain a huge stock of Compression Tube Fittings as we have a huge demand for them in both domestic and international markets. We manufacture precision machined parts using the latest design techniques and as per national and international standards like DIN, BS, EN, IS, ASTM, AMS, JIS & Other International Standards.
We offer Instrumentation Fittings in a wide range of materials and grades like stainless steel, duplex steel, alloy steel, nickel alloy, inconel, monel, hastelloy, titanium, aluminium, brass, copper, etc. and other specifications as per customer requirement. Our Instrumentation Fittings are used in many industries and applications like refineries, construction, agricultural, food industry, chemical & petrochemical, oil & gas, water treatment plants, ship building, offshore, engineering company, etc.
Contact us today with your specific precision machined components & turned/machined fasteners requirements for quick quote and details.
Male/Female Hose Nipple, Three Piece Union, Bulkhead Locknut, Hex Long Nipple, Female Cap, Male/Female Tee, MaleXFemale Elbow, Female Cross, Hex Coupling, Female Run Tee, Male/Female Branch Tee, etc. Instrumentation Fittings Dealer, Manufacturer of Precision Machined Components, Turned & Milled Parts Exporter, CNC Machined Parts Stockist, VMC Machined Components Manufacturer in India
---
Instrumentation Fittings Specifications:
| | |
| --- | --- |
| Materials: | Specialized in Stainless Steel - 303, 304L, 316L, 410, 431, 430F, 416; Duplex, Alloy Steel & Free Cutting Steel, Nickel Alloys, Inconel, Monel, Hastelloy, Aluminium, Copper, Brass |
| Standard: | ASTM, ASME, DIN, BS, EN, IS, AMS, JIS, IBR & Other International Standards. |
| Size: | M02 to M33 (As Per Customer Requirements) |
| Lentgh: | 3 mm to 200 mm (As Per Customer Requirements) |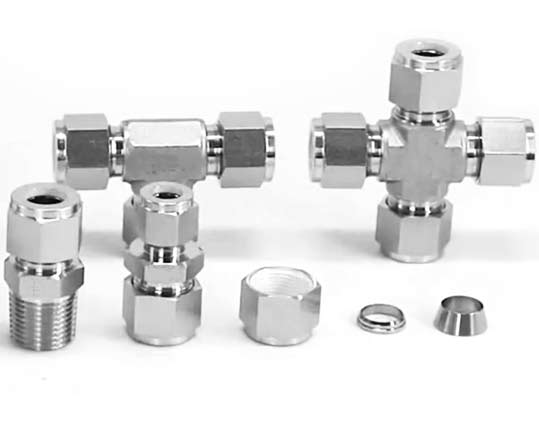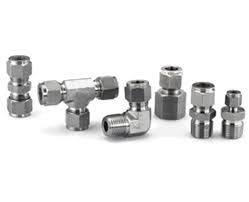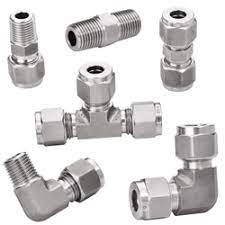 ---
Available Types of Stainless Steel Instrumentation Fittings
Stainless Steel 304 Female Connector
304L Stainless Steel Front Ferrule
Stainless Steel 310 Blukhead Union Suppliers
310S SS Union Elbow Manufacturer
SS 316 Female Elbow Distributors
Stainless Steel 316L O-Seal Pipe
316H Stainless Steel Male Branch tee Distributors
Stainless Steel 317 Female Run Tee
Top Quality SS 317L Union Tees Exporter
SS 321 Hex Coupling Stockiest in India
Stainless Steel Hex Reducing Coupling
SS 321H Hex Nipple Dealers
Stainless Steel 347 Reducing Union
Stainless Steel Tube End Closuer
Stainless Steel 347H Female Branch tee
Stainless Steel 446 Thread Connector Stockholder
Stainless Steel 904L Fitting End Closure
Stainless Steel Coupling Cap / Nut Exporter
---
Other Available Types of Alloy Steel Instrumentation Fittings
Alloy Steel Female Connector
Alloy Steel Front Ferrule
Alloy Steel Blukhead Union Suppliers
Alloy Steel Union Elbow Manufacturer
Alloy Steel Female Elbow Distributors
Alloy Steel O-Seal Pipe
Alloy Steel Male Branch tee Distributors
Alloy Steel Female Run Tee
Top Quality Alloy Steel Union Tees Exporter
Alloy Steel Hex Coupling Stockiest in India
Alloy Steel Hex Reducing Coupling
Alloy Steel Hex Nipple Dealers
Alloy Steel Reducing Union
Alloy Steel Tube End Closuer
Alloy Steel Female Branch tee
Alloy Steel Thread Connector Stockholder
Alloy Steel Fitting End Closure
Alloy Steel Coupling Cap / Nut Exporter
---
Other Available Types of Instrumentation Fittings Components
Piston Rod
Hydraulic Cylinder Tubes
Hydraulic Honed Tubes
Pneumatic Honed Tubes
Instrumentation Fittings
Propellers Marine Shafts
Connector
Rope Fittings
Hose Fittings
Hard Chrome Plated Bars
Auto Components
High Precision Honed Steel Tubes
Valve Stems
Rope Fittings
Threaded bars
Valves and Pumps Components
Turned/Machined Fasteners
Rope Fittings
Marine Components
Aerospace Components
Chrome Plated Threaded Bars
Hard Chrome Plated Honed Tubes
Honed Tubes
Stubends
Rope Fittings
Special Bushes/Housing
Dowel Pins
Wire Rope Fittings
Hollow Section
Special Machined Washer
Machined Bush
---
Industries & Applications where our Instrumentation Fittings are used:
Our high quality Instrumentation Fittings components are used in various industries such as Automobiles, Aircraft, Electronics, Medical & Dental, Valves Manufacturing, Pumps Manufacturing, Defense, Machine Building, Railway Engineering etc.
Prominent Countries where we Export Instrumentation Fittings:
Bhansali Precision Components is manufacturing and exporting precision components across the world. Some of our important export destinations includes: Germany, Sweden, Switzerland, Denmark, USA, Canada, Finland, Norway, France, Netherland, and other European and Noth American